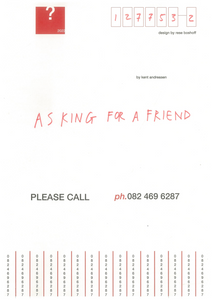 A book about harnessing the power of social media as a crowd sourcing tool to find unlikely objects, spaces, opinions and people.
Andreasen has used this method for the last few years to find anything and everything for his work as a photographer.
This book is inspired by the various people that have offered their assistance by responding to the following requests posed to the internet.
We then asked the internet to make images of the things for us.
Thank you for your curiousity and for the kindness of friends and strangers.